If you've never heard of Sloane Stevens, it's about time you get familiar. Just ask Serena Williams.
The 19-year-old made headlines this week for beating her Wimbledon winning idol at Tuesday's Australian Open.
During a press conference before the match, Stevens weighed in on going against the woman whose picture has been on her bedroom wall since she was a little girl:
"[The next match] just happens to be Serena. She's obviously one of the greatest players to ever play the game.  Without all that, it's still a tennis match … The court's the same size. You're still playing a regular person across the net. You've just got to go out and play."
As the daughter of a former NFL playing father and a mother who qualified for the Olympic Trials in swimming, there's no question where the Florida native gets her athletic drive from.
Peep a snap taken of both Sloane and Serena after the teen's impressive win below: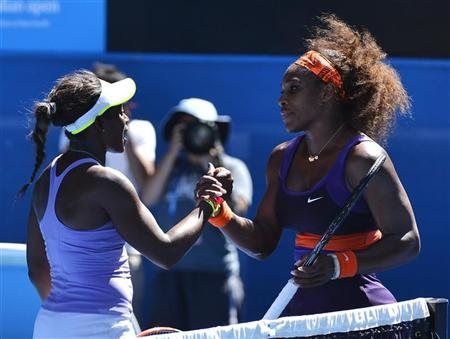 Miss Stevens has definitely been added to our roster of 'Diva's to Watch in 2013.' Congrats to her on the win!
Your thoughts on the tennis champ?