RHOA's Kenya Moore Releases Statement on 'Fake Relationship' with Walter Jackson
Something false about 'reality TV?' Say it isn't so!
Well, in the case of 'Real Housewives of Atlanta' drama beauty queen Kenya Moore, she's sticking to her claims that her televised relationship with towing company owner Walter Jackson was indeed authentic…despite his spilling the beans that it was only for the cameras.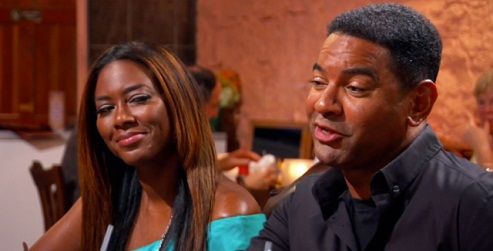 Earlier this week Jackson appeared on Atlanta's V103 radio station and dished that although they briefly dated over three years ago, Kenya asked him to 'play' her boyfriend on the show before filming began for RHOA's fifth Bravo season.
Now, the former Miss USA has released a statement on the matter, which is set to be read on the 'Wendy' show today. She states:
"The truth is and has always been that I want to be in a loving, honest, long-term relationship with someone who genuinely loves me for me — Walter's recent statements are completely false. I am embarrassed that I allowed a deceitful and hateful person in my life.
He says he 'did it for fame.' I've been humiliated enough by appearing desperate for a man to marry me who now admits he had his own agenda. I urge viewers to stay tuned because the truth will come to light. I am moving on from this situation and hope he can as well with respect and dignity going forward. I have heard the fans and my friends loud and clear … I can do better than Walter, and I will."
*****
With all of the chaos the Detroit-native caused her new cast mates this season, we're sure they're all having the laugh of the week over these new allegations.
Are you taking Kenya's word, or siding with Walter?