The holiday season is officially in gear for the residents of 1600 Pennsylvania Avenue!
Last week, First Lady Michelle Obama was seen stylishly partaking in the yearly tradition of receiving the official White House Christmas Tree with her two daughters Sasha and Malia, and the 'First Dog' Bo.
The Obama's looked winter fabulous in a combination of sweaters, flowy skirts, trendy tights, and knee-length boots.
The 19-foot high tree was delivered via horse and carriage all the way from Jefferson, North Carolina. After it's decorated, the Fraser Fir will be showcased in the Blue Room, a ritual dating back to 1966.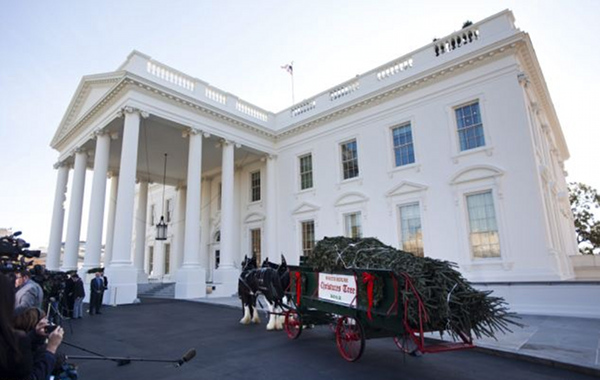 After a close inspection by the FLOTUS, she gave a thumbs up, and exclaimed, "I think we'll take it! We can have Christmas now."
So cute!
Your thoughts on Christmas at the Obama's?